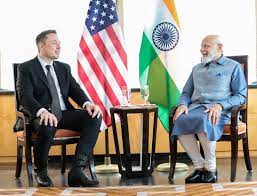 Indian Prime Minister Narendra Modi, last week in his state visit to the USA, met Tesla CEO Elon Musk. Musk told reporters after meeting Modi that he is incredibly excited about the future of India and said that India has more promise than any large nation in the world.
Musk said, "I am a fan of Modi. He really wants to do the right thing for India. He wants to be open, he wants to be supportive of new companies, but at the same time make sure it accrues to India's advantage."
Modi and Musk previously met in 2015 when Narendra Modi visited Tesla's Fremont Factory in California.
Musk said, "Modi really cares about India because he is pushing us to make significant investments in India, which is something we intend to do and we are just trying to figure out the right timing,"
One analyst reported that India holds huge potential for Tesla.
Nilesh Shah, managing director at Kotak Mahindra Asset Management, said, "Every single U.S. Company which has a listed subsidiary in India has seen higher growth and value creation in India. U.S. investors will be reassured that building a U.S.-India partnership will be a true win-win situation for both countries."
The CEO of the EV maker said, "Investments from Tesla would aim to support India's sustainable energy generation primarily through solar and wind. India is great for solar. The amount of land area you actually need to generate enough electricity to power India is very small. I believe it'd be probably 1% or 2% of the land area in India, so it's very doable."
Other investments include electric vehicles and stationary battery packs.
Shah stated, "India will be a promising market for Tesla as their fate in China will be similar to other American car manufacturers who ended up being beaten by Chinese competitors."
Musk also expressed his interest in improving India's internet connectivity and he hopes to bring SpaceX's Starlink satellite internet service to India.
Musk said, "This can be incredibly helpful for remote or rural villages where they perhaps may have no access to the internet or the internet is very expensive and slow."
Musk said the Indian Prime Minister invited him to visit India and said that it will happen as soon as in the coming year.